Skip to Main Content
It looks like you're using Internet Explorer 11 or older. This website works best with modern browsers such as the latest versions of Chrome, Firefox, Safari, and Edge. If you continue with this browser, you may see unexpected results.
What is Special Collections?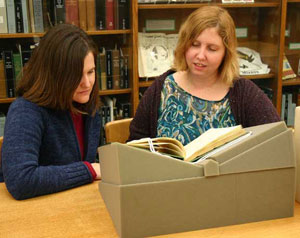 Special Collections and Rare Books houses rare and unique materials that span over four thousand years. The collections include books, maps, posters, pamphlets, comics, artwork, artifacts, personal papers, and over 8 million titles on microform. Many of these materials are valuable primary sources.
The materials in Special Collections are here because they are fragile, one-of-a-kind, and they have lasting value for research. Because of this, the procedures for using books and other materials are a little different from what you may be used to in libraries. This guide will walk you through the process of finding and requesting materials in Special Collections.
Requesting Materials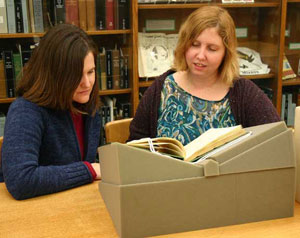 Here's a step-by-step guide to requesting materials from Special Collections to use in your research.
Find items on your topic in the MERLIN catalog (or ask a librarian for help). See the Search Strategies guide for a tutorial on how to limit your MERLIN search to Special Collections.

Make an appointment. Due to COVID-19, there may be restrictions on appointments. Please see the Special Collections website for more information.

Check in and store your stuff. For security reasons, everyone must put all personal belongings on the shelves to the left of the reading room door. Please silence your cell phones, and leave any beverages or food outside the room.

Fill out a short form. You'll need to provide your name, address, telephone number, and a photo ID. It's helpful if you have the call number or title of the item you're requesting, but the librarians can help you look it up.

Special Collections staff will get your materials for you. Special Collections has non-browsing stacks, which means that staff members will bring materials to the reading room for your use. This process usually takes less than 5 minutes. You can get settled at one of the reading room tables while you wait.

Research to your heart's content! But while you do, remember:

Leave any marks you find in the books alone (and don't make any new ones).
Use the cradles supplied, and leave the books in them as long as they're in use.
Make sure your hands are clean - no gloves necessary in most circumstances.
Return the materials to the desk (or let the desk attendant know) before you leave the room.
You're welcome to take photos without flash. Staff can make scans for a fee, if the condition of the material permits.
Most of the books can't be checked out, but you can put them on hold in the reading room if you need to consult them over more than one visit.