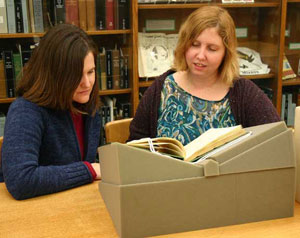 Special Collections materials can be used in the Reading Room on 4 West, Ellis Library. You'll be asked to fill out a small form for each item you'd like to see.
You can have a pencil, paper, a computer and a camera with you at the reading tables. You'll be asked to store your backpack and coat elsewhere.
Bring a photo ID! Your MU student ID or a driver's license will be fine.
Most materials cannot be checked out, but you can put them on hold in the Reading Room.
You can take pictures with your phone or a camera. But remember - no flash! If you have Special Collections staff make photos or scans for you, the cost is 50 cents per image.