Skip to main content
It looks like you're using Internet Explorer 11 or older. This website works best with modern browsers such as the latest versions of Chrome, Firefox, Safari, and Edge. If you continue with this browser, you may see unexpected results.
About Special Collections
Location
The Division of Special Collections is located on the fourth floor west of Ellis Library, the main library for the Columbia campus. More information
Using Special Collections
Special Collections provides a variety of services to MU students, faculty and staff. Services are available to all researchers and scholars not affiliated with the University of Missouri as well. Get started
What is Special Collections?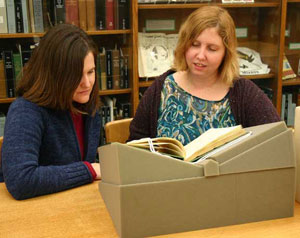 Special Collections and Rare Books houses rare and unique materials that span over four thousand years. The collections include books, maps, posters, pamphlets, comics, artwork, artifacts, personal papers, and over 8 million titles on microform. Many of these materials are valuable primary sources.
The materials in Special Collections are here because they are fragile, one-of-a-kind, and they have lasting value for research. Because of this, the procedures for using books and other materials are a little different from what you may be used to in libraries. This guide will walk you through the process of finding and requesting materials in Special Collections.
Know Before You Go
Make a research appointment with MU Libraries Special Collections in MU Connect.
Bring a photo ID! Your MU student ID or a driver's license will be fine.
Most materials can't be checked out, but you can put them on hold in the reading room.
Allowed at the reading tables: pencils, paper, laptop computers, mobile devices (silenced), and cameras. You'll be asked to store your backpack, coat, and other personal belongings elsewhere.
You can take pictures with your phone or a camera. But remember - no flash! Special Collections staff can make photos or scans for you for a fee.
More information on using Special Collections